Why Is A Global Business Directory So Important To Users and Businesses Alike?

Introduction to Online Business Directories
Online business directories are some of the first places that both consumers and business owners visit when looking for new products / services / suppliers / partners / providers.  By maximizing your visibility in these directories, you can quickly increase your brand awareness and steadily grow the number of potential prospects for your business, practice, organization or product.  
People Search Online for Desired Products and Providers.  
Consumers frequently use online business directories as convenient, time-saving tools that display substantial lists of possible solution providers and a number of competing alternatives. These directories can include firms, practices and professionals, typically organized according to:
Geographical Location (continent, region, nation, state, county, city, community/locality, street address, etc.)
Industrial Category (legal-bankruptcy, legal-divorce, surgery-ophthalmic, surgery-orthopaedic, etc.)
Participating Membership (chamber of commerce, alumni organization, healthcare system, industry trade group, etc.)
Consumers often also find desired products and new service providers by searching Google, Facebook, LinkedIn, Bing, Yelp and many other sites that pay data aggregators to send them up-to-date business names, addresses, phone numbers and weblinks they can share with their site users. Some of the Internet's most-popular business listings sites receive considerable amounts of their displayed information from data aggregators and local citation-building service providers. Online business directories, just like other Web-based enterprises, actively compete for traffic, for users, for advertisers, etc.
Backlinks Significantly Boost Page Authority.
Backlinks, created when other sites include links to your site, indicate that those other sites consider your site to contain worthwhile content. Search engines, such as Google, place a high value on backlinks from online business listings and from social media profiles (especially Facebook, Twitter, LinkedIn, Instagram and Pinterest.)
Web pages with geo-targeted backlinks and backlinks from sites with additional content directly relevant to your site will have greater Page Authority and will rank comparatively higher in search engine results.
The unique URL you employ on each of your business listings and social media profiles can serve as a tracking link that will let you know precisely how many visitors to your website came to it by clicking the link on that particular listing or profile.
What Makes ResourceShark™ Different?
Intelacomm, Inc.'s flagship product, ResourceShark™, is a Global Directory Index that sets itself apart from others by offering Multidimensional Connectivity™ to its participants and users on a world-wide scale. Intelacomm™ serves as the central hub of a proprietary world-wide network of GeoHubs™ – multidimensionally connecting our clients' websites and their associated online directories, blogs and social media with all other GeoHub™ businesses (B), consumers (C), professionals (P), markets (M) and resources (R) in every conceivable direction and combination – B2B, B2C, B2P, B2M, B2R, C2B, C2C, C2P, C2M, C2R, P2B, P2C, P2P, P2M, P2R, M2B, M2C, M2P, M2M, M2R, R2B, R2C, R2P, R2M and R2R.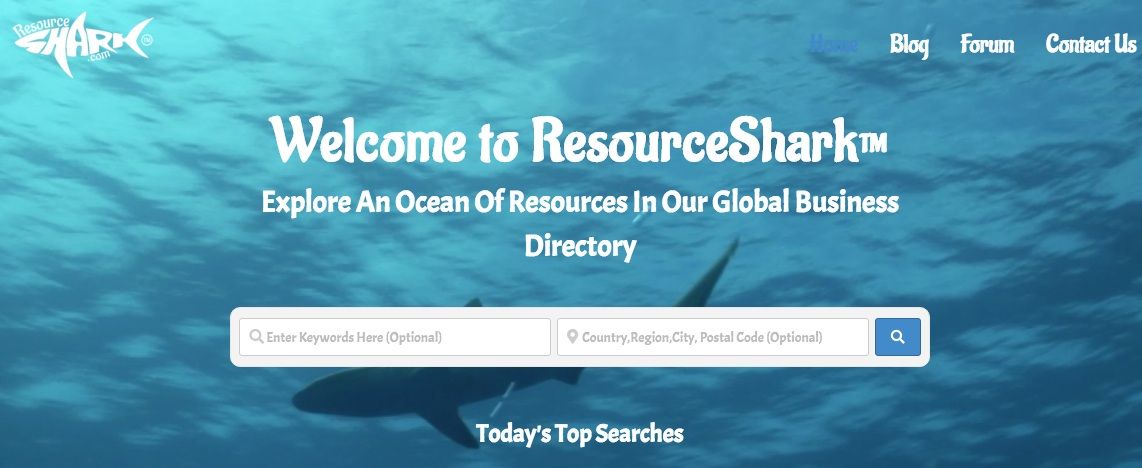 When you list your organization on ResourceShark™ you get much more than a simple inclusion in a directory. ResourceShark™ will actively promote you to other followers via blog posts and social media blasts highlighting the capabilities and accomplishments of your organization. You will receive valuable advertising placements, useful reports and analysis, plus many practical opportunities to measurably improve the ROI of all your data generation activities.

Dramatically increase awareness of your brand.  Take advantage of Multidimensional Connectivity™ to extend the reach and impact of your Internet presence.  90% of searchers haven't made up their mind up about a brand before starting their online search.

Steadily grow the number of well-qualified prospects for your business, practice, organization or product.  Get more website visitors, more inbound phone calls and more foot traffic to your location(s).  Content marketing produces 3X more leads than paid search advertising.

Quickly turn your site into a powerful data generation vehicle. Leverage newfound intelligence and well-targeted communication to measurably improve the ROI of all your data generation activities.  Organic SEO delivers 5X better results than paid search ads.

Actively promote your organization through frequent Blog posts and Social Media blasts.  Streamline the efficiency while reducing the costs associated with your blog and social media updates. 47% of buyers viewed 3-5 pieces of content before engaging with a sales rep.

Stay ahead of your market competitors.  Receive useful reports and analysis. Find profitable new opportunities, and maximize your visibility to your most promising customers/prospects.  Experts anticipate that B2B e-commerce sales will outpace B2C e-commerce sales by 2020.
Whether you have just your own single website or whether you have hundreds (or even thousands) of clients/members whom you want to promote via your participation in the ResourceShark™ Global Directory Index, Intelacomm™ empowers you to effectively integrate intelligence and communication.  You can capture detailed data related to contacts, prospects, traffic and leads — detecting site visitors' desires, determining their appropriate target market segments, generating valuable information and connections that directly benefit you, your organization and those who visit your sites or interact with your online assets.
Enterprise-Level ResourceShark™ Listings include:
Your Organization Listed on ResourceShark's Global Directory
4+ Blog Posts Per Month
20+ Social Media Blasts Per Month (Facebook, Twitter, LinkedIn, Instagram, Pinterest, VK, QZ and OX — includes posts on all platforms plus cross-posts and links)
2 Panel Ads on ResourceShark.com
1 Banner Ad on ResourceShark.com
Submit To/Monitor 300+ Sites/Directories Per Month
Your Organization Promoted in the ResourceShark™ Newsletter
Monthly SEO Checkup for your Website
Monthly Website Malware Analysis
Custom Exclusive/Member Forum
Exclusive Email Newsletter
Custom Packages Available
Find out more about the measurable advantages of listing your organization on the ResourceShark™ Global Directory Index.
Intelacomm™ , Multidimensional Connectivity™ , GeoHubs™ , GeoHub™ and ResourceShark™ are trademarks of Intelacomm, Inc