Intelacomm™ has created a multidimensional data generation business without borders — with Multidimensional Connectivity™ providing timely data access to businesses, consumers, professionals, markets and resources. Our U.S.-headquartered company fulfills the needs of diverse clientele in a broad spectrum of business disciplines, domestically and globally.
Typical monodimensional websites, while still the norm, have not been designed to effectively integrate intelligence and communication.  Intelacomm™ produces data vehicles in various forms, including websites, utilizing technology to generate, collect, manage, disseminate and distribute data for a wide variety of users and purposes. Our results-focused services capture detailed data related to contacts, prospects, traffic and leads — detecting site visitors' wants, determining their appropriate target market segments, generating valuable information and connections that directly benefit our clients and those who visit their sites or interact with their online assets.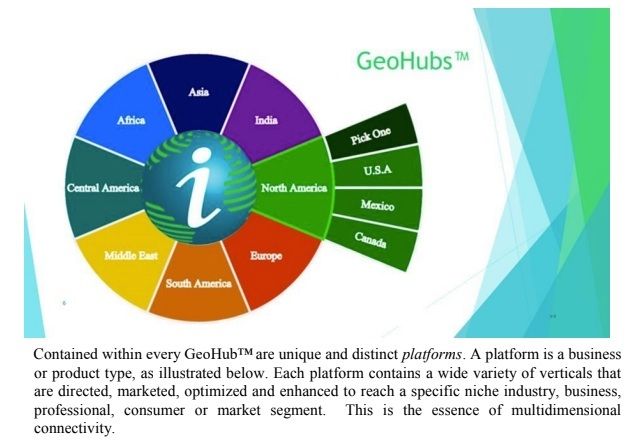 Intelacomm™ serves as the central hub of a proprietary world-wide network of GeoHubs™ – multidimensionally connecting our clients' websites and their associated online directories, blogs and social media with all other GeoHub™ businesses (B), consumers (C), professionals (P), markets (M) and resources (R) in every conceivable direction and combination – B2B, B2C, B2P, B2M, B2R, C2B, C2C, C2P, C2M, C2R, P2B, P2C, P2P, P2M, P2R, M2B, M2C, M2P, M2M, M2R, R2B, R2C, R2P, R2M and R2R.
The useful data generated by dynamic interactions/transactions between and among these many inter-connected online assets can help you find profitable new opportunities and maximize your visibility to your most promising customers/prospects.
For more discussion about how to turn your website into a powerful data generation vehicle, email peter@intelacomm.com or call +1 216 264 9610.
Intelacomm™, Multidimensional Connectivity™, GeoHubs™, GeoHub™ and ResourceShark™ are trademarks of Intelacomm, Inc.